Carriage Driving DVD's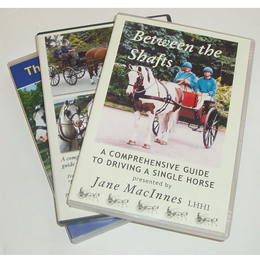 Carriage Driving DVD's
A great source of information for all levels of driving enthusiast!
Between the Shafts DVD - £24.00 - A guide to driving a single horse Presented by Jane MacInnes LHHI This DVD has been produced in conjunction with the British Driving Society
Features, The Harness - a detailed look at all parts, Harnessing Up correct fitting of single harness, The Carriage identifying the parts of a carriage, Putting to the pony to the vehicle, Fitting the carriage - a detailed look at size and fitting, Taking Out the correct and safe procedure, Driving Technique rein handling, aids, mounting & dismounting, Drive Safely on the road, Care of Equipment, cleaning, storage of harness and carriage, Harness Variations a look at full collars, driving bits etc., Alternative Turnouts exercise harness and carriage, Show and country turnouts and four wheeled carriages, 10 important do's and don'ts
Breaking to Harness DVD - £24.99 ​- The expert guide to .... Breaking to Harness. A comprehensive "safety aware" step by step guide to all the stages of breaking a horse to harness including:
​Features selecting a horse to drive, discipline, bitting, harness fit, long reining, pulling a tyre, putting to the vehicle, driving out for the first time.
Double up DVD - £30.00 - A guide to Pair Carriage Driving from the makers of ˜Between the Shafts" Presented by Jane MacInnes LHHI This DVD has been produced in conjunction with the British Driving Society
Features an introduction, Pair Harness, Driving Bits, Pair Carriage, Harnessing Up, Putting To, Driving Technique, Driving Trails
Price: £24.00