Try Carriage Driving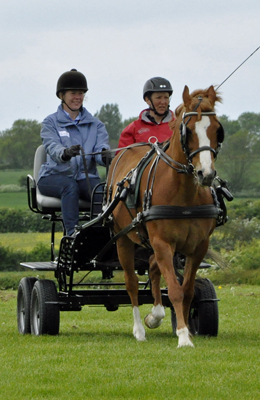 Try Carriage Driving
January 2021 - Please note, due to the government guidelines and the national lockdown we are unable to offer any training or carriage driving lessons. However, please do not hesitate to contact Sue Mart our inhouse UKCC coach who can put a plan together and help you with your goals for 2021. Please call Sue at Bennington on 01400 281280 for further information or to book lessons for when we are able to continue. Take care and keep safe.
Carriage Driving can be highly exhilarating or remarkably relaxing - and it's always fun! Bennington offers a wide range of Carriage Driving experiences aimed at the newcomer or novice which provide an ideal opportunity to try Carriage Driving.
Our Carriage Driving Experience provides an enjoyable, inexpensive introduction to the sport. During the 2 hour session, the experience covers the essentials of Carriage Driving and provides one to one tuition from our UKCC Level 3 coach in 'Driving' Sue Mart and will ensure that your first time 'behind the reins' is safe, rewarding and of course, fun!
Bennington also offers tailor made one to one tuition, suitable for all levels and disciplines of driving - from novice to advanced and from pleasure to competition.
Our resident UKCC Level 3 coach in 'Driving' Sue Mart will work closely with you to understand your requirements and tailor either individual or a series of sessions to ensure you realise your Carriage Driving goals.
Prices
1 Hour Carriage Driving Lesson £75 with Academy's own turnout or £55 per hour with clients turnout
(booking 5 or more lessons with Academy's own turnout £65 per hour)
​2 Hour Try Carriage Driving Experience - £145 with Academy's own turnout
For further information or to book please call the Bennington Team on 01400 281280 or read some Testimonials