Pre Owned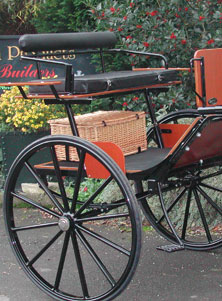 We are delighted to be able to provide a range of pre-owned carriages for sale by their current owners.
We provide a pre-owned facility in our new showroom, with a range of pre-owned Bennington carriages regularly on display. Additionally, we offer a wide range of pre-owned carriages through our website. All carriages are offered for Private Sale by the current owners and details are as published by the seller.
Selling your Bennington Carriage at our showroom is the simplest, easiest and most effective way to get your carriage visible to our customers. Details of this service are provided in the booking form below, but please do contact us if you have any queries.
Advertising your Bennington Carriage on our website is free of charge. Should you wish to advertise, please e-mail the information below, plus a jpeg image (minimum size 800 x 600) to: info@bennington.co.uk
Model
Year of Manufacture and Chassis Number
Size of horse driven in carriage
Colour
Extras fitted plus any other relevant information
Location where Carriage can be viewed
Price
Contact Details