Bennington Buccaneer competitor (Ref.128)
Bennington Buccaneer competitor (Ref.128)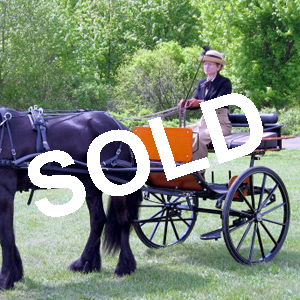 Model: Bennington Buccaneer competitor - SOLD
Chasis Number: 7178
Manufacture Date: 2000
Size: 14 - 14.2hh
Wheels: 37 inch wheels
Features: Buccaneer Competitor, 2 Wheel Carriage with detachable backstep. 37 inch wheels, easily removed for dismantling, wood and tubular dashes, wedge double and single marathon suede wedge seats, extending axle, screw mechanism for balancing, mud guard, whip holder, wicker basket, chrome rein rail, swingle tree for gibbs.
Extras:Lamp brackets. Beautiful lamps and waterproof cover available for extra fee.
Additional Information: Was in accident years ago, Bennington authorized repair to seat back, step and shaft bracket.