Bennington B1 (Ref.419)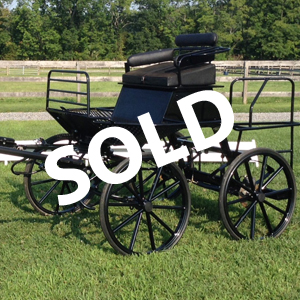 Model: Bennington B1 multi phase competition vehicle - SOLD
Year: Manufactured and imported in 2004.
Chassis number: 7572
Size: 14 - 15hh
Colour: Black
Wheel Size : 28" aluminium wheels
Track Width:125cm to Rear extending axle to 138cm
Features: Rear detachable side seats, interchangeable with marathon handles
Use: Excellent for dressage, marathon, or recreational use.
Additional Information: Carriage is in excellent condition and was used very lightly. Sold with brand new pole for pair driving. Carriage weighs 394 pounds as a single presentation vehicle, 368 pounds as a single marathon vehicle. It weighs 427 pounds as a pair presentation vehicle(including pole) and 402 pounds as a pair marathon vehicle(including pole).
Price: Offered for sale for $6900 or reasonable offer.