We love our Bennington Mini!
We love our Bennington Mini!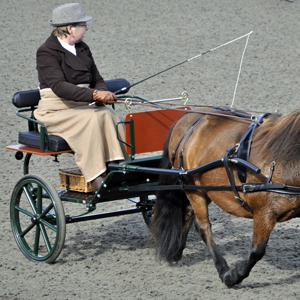 What a fantastic year it has been for my wonderful Shetland and I! We were delighted to take delivery of our new Bennington Mini earlier in the year - a wonderful carriage which has made a massive difference to our performance. We took delivery approximately two weeks before our first show. It was beautiful: the perfect carriage, built exactly to our requirements. Entering our first competition, we were delighted to win first prize in our class - something we had never achieved before.
We carried on through the season and took a further first and several seconds - a level of performance we had never come close to previously. Clearly our Bennington made all the difference - but I mustn't forget to thank my mentor and my husband who drives us to all of our shows.
As well as being great for competition use, it's also a wonderful carriage for pleasure use. Many people have positively remarked on its looks and it's great for exploring the local villages. Our two cocker spaniels have grown very attached to it and are always eager to come along when we go exploring. We all love our new Bennington! Mrs J Austin