Neue Schule Bits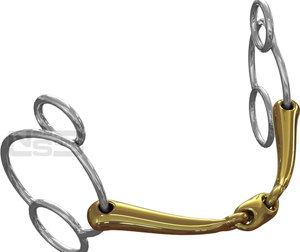 Neue Schule Bits
Neue Schule bits are ergonomically designed, using the latest in engineering and CAD technologies, the Neue Schule range incorporates a unique, warmer, sweeter metal.
Neue Schule Salox Gold has a high copper content and Neue Schule additives that maximise on warmth and oxidation, promoting salivation, mouthing an, acceptance and communication.
8023U - Loose Ring Neue Schule Tranz Angled Lozenge Universal 16mm
The brilliant all rounder, control without severity, a handy piece of kit. The Neue Schule Universal offers control without discomfort or severity. It is brilliant for fast work as you can turn much more easily and it generally eliminates the head toss when asking for a downwards transition. If you need to upgrade from a snaffle, it is highly recommended as you are staying with a mild mouthpiece but subtly employing other pressure points. There are four rein options including the curb strap and Pelham Roundings.
Sizes: 5", 5 1/4", 5 1/2", 5 3/4", 6", 6 1/4", 6 1/2"
Price: POA
9010 55 - Loose Ring Neue Schule Verbindend 12mm
The Neue Schule Verbindend gentle emphasises the signals through the rein. By encouraging clarity of the aids, and promoting a true outline the freedom through the shoulder can be developed, thus promoting self carriage and throughness. The NS Verbindend eradicates tongue evasions by creating a channel for the tongue to lie in allowing the horse to soften and relax through the jaw. This mouthpiece can also enhance the development of the bend for lateral work and smaller circles. If you want to establish a lighter, softer way of going this is the bit for you.
Sizes: 5", 5 1/4", 5 1/2", 5 3/4", 6", 6 1/4", 6 1/2"
Price: POA