Testimonials
Loved my carriage driving experience
"Fantastic day! Loved my carriage driving experience which my best friend bought me. Lovely lovely people, friendly and professional. Thank you fudge for looking after me and making my dream come true xxx"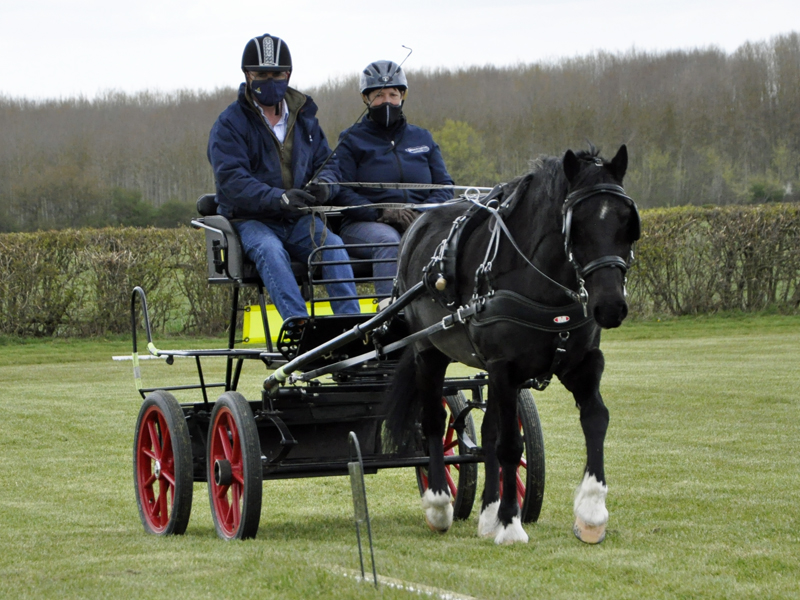 My training day filled with Knowledge, inspiration and confidence
"We were lucky enough to be awarded a bursary from the Haflinger Society of Great Britain to spend on training. We are so pleased we chose to spend the day with the lovely team at Bennington Carriages. Sue Mart is extremely knowledgeable and her calm approach really helped us both develop. My nervous husband was put at ease, he had the opportunity to use a rein handling machine and then drive the absolutely gorgeous Zac. We came away from the training filled with knowledge, inspiration and confidence. We can't wait to put into practice everything we learnt. Thank you so much for spending the time with us. We will be back soon to learn more"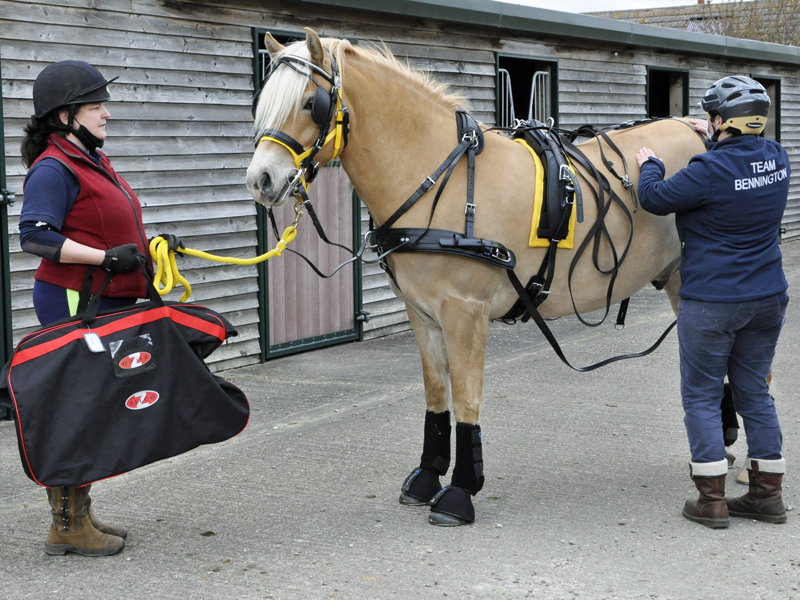 Expert harness fitting - encredible eye to detail and patience
"We both want to say a huge thank you to Sue Mart and everybody at Bennington Carriages for the fabulous harness fitting you provided us. Nothing was too much trouble and Sue's incredible eye to detail and patience has meant our young Haflinger is now comfortable and ready to start his driving career. Thank you so very much we love his Zilco Classic Harness"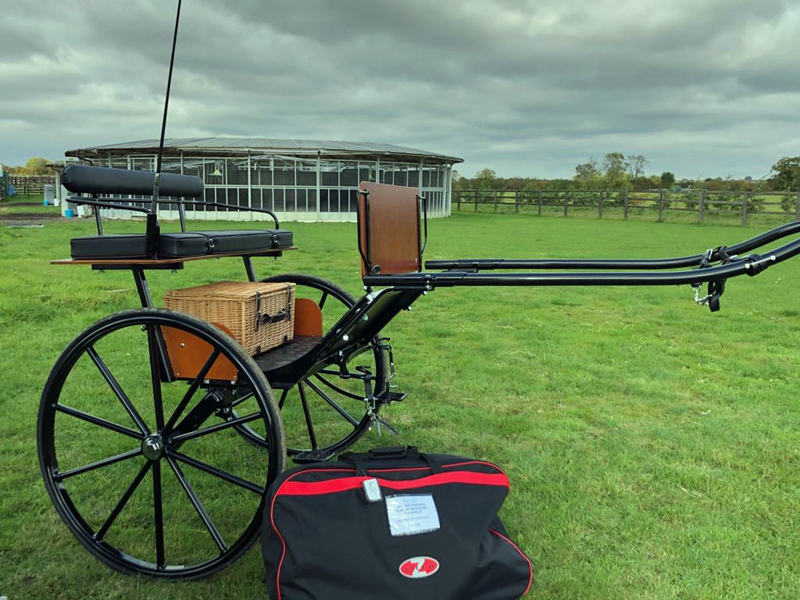 Bennington Starter Pack being delivered
'From our first Covid friendly visit to the showroom to Sue & Simon delivering and fitting our harness and carriage, the service was excellent. Sue really knows her stuff and couldn't be more helpful and encouraging. Delighted with both harness and carriage.'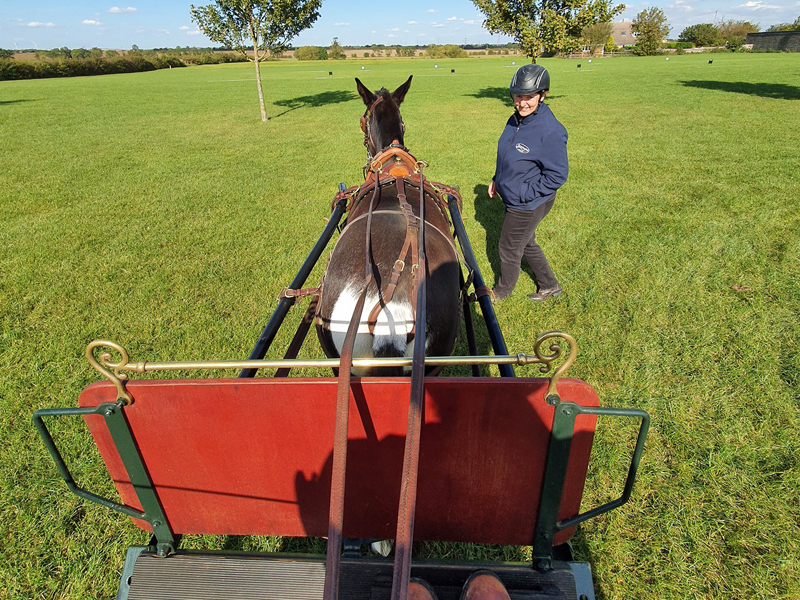 My 2 days at Bennington were a real hightlight for 2020 for me and Muffin, we had the best time!
"My 2 days at Bennington were a real highlight for 2020 for me and Muffin, we had the best time. After so many cancelled events I decided to take up Sue's offer to help me improve from my "happy novice" status to "budding competition prospect". Spending quality time having 1:1 tuition using the bespoke facilities at Bennington was a real treat. I drove my first ever course of cones, practised some real dressage movements actually staying in between the boards (most of the time!) and got to try alternative set ups and carriage with the confidence I was in safe, experienced hands to help prevent any issues. Whilst I was there, my carriage was serviced which was an added bonus! I left feeling inspired and empowered to continue my carriage driving journey. Highly recommended."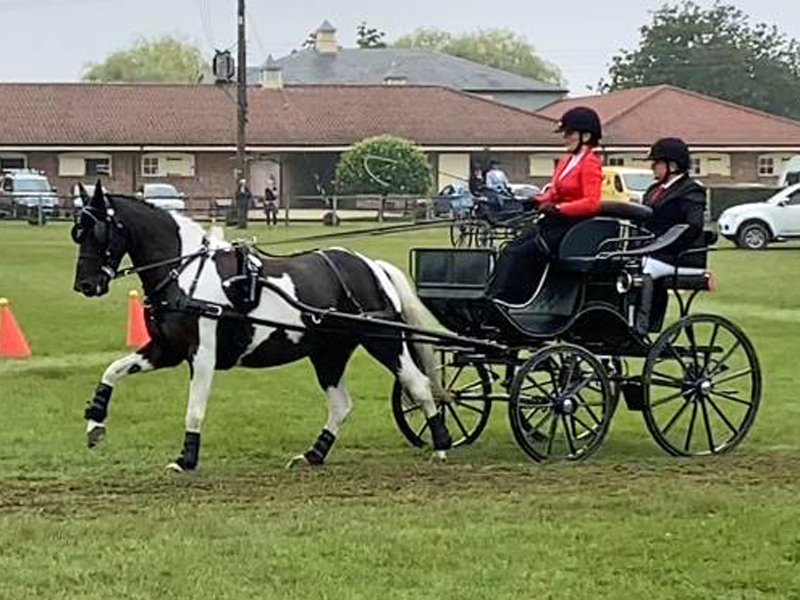 My Bennington carriage, gives me the confidence to push the boundaries!
"I love my Bennington presentation carriage, its smooth, comfortable to drive and gives me the confidence to push the boundaries" Colette Holdsworth
Colette and Pepper at their first outing since lockdown in the Advanced Single Pony: Ashfields Nationals August 2020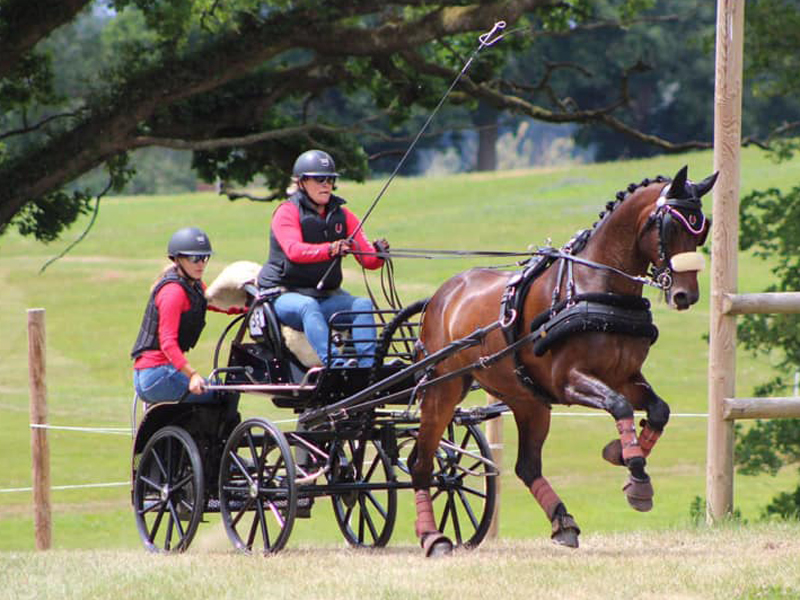 Bennington Carriages performed superbly in Le Pin
"the Bennington carriages performed again superbly under difficult circumstances. The dressage ring in Le Pin pulls heavy so the lightness of the Bennington presenation carriage was definitely an advantage. On Saturday we were challenged with an extremely technical marathon where all the obstacles were on a slope. There was never a moment that the carriage deviated from its line and the timing of the delayed steering was perfect. All things that drastically reduce the wear and tear on Flip." Kelly Houtappels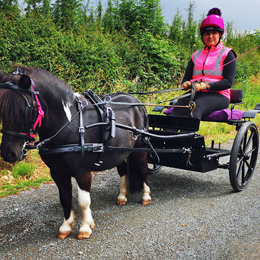 Moses in a Bennington Mini Magnum
I was very very fortunate to purchase the Bennington second hand although in immaculate, unused condition. I had always dreamt of one day owning one so to finally be the proud owner is a bit overwhelming, especially one with so many extras! Despite not buying direct from Bennington Sue was very helpful during and after my search and I'd completely recommend based on the vehicle itself and the brilliant customer service I received. Driving wise the Bennington really feels safe and substantial despite keeping the weight down which is so important for little ponies like Moses, along with it's beautiful looks it really is the Rolls Royce of the driving world!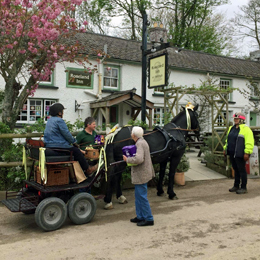 Abi Loves her Fun Bug
Abi is a 14.2 black Irish cob twenty years old. I have owned her for twelve years and we have progressed together ... I have study the Parelli program with the result have a very light and responsive pony. In December 2015 after a jumping lesson (this was the first time I had jumped for sixty years) my knees were so painful that I decided drive her. WOW .... I have so much help from Jo and Robert backed up by a huge support from the Bennington team. I purchased a secondhand Fun Bug and have not looked back it is amazing I feel safe a can get on and off so easily. My lovely mare was jumping one Saturday and within two weeks was pulling a carriage she never hesitated and now we have started to do some good school work. I would recommend anyone to have a go the Fun Bug gives you so much confidence and to the young it's a good leg up to the next stage. Thank you Sue and Denise you have been incredibly understanding and supportive. Carol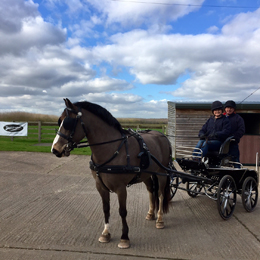 Joey at the Carriage Driving Camp with Team Bennington
"Probably my best birthday treat ever - a short break away, Carriage Driving Camp with Team Bennington. We learnt so much and came away focused with our SMART goals and so many tips to help us on our learning curve. Bennington's bespoke camp supported our current ability and our needs going forward"
Humans, Christine & Douglas stayed at The Staunton Arms. "We had excellent food, service & accommodation all great value for money"
"Equine, Joey highly recommends the stabling at Benningtons. Extremely relaxed & spoilt pony & humans"
"All thanks to Sue & Erica at Bennington. Our expectations were exceeded in so many ways. Even storm Doris didn't not stop us meeting our objectives!"
"Bennington's Carriage Driving Camp definitely works for us and we can't wait until the next time"
To view details regarding Staunton Arms (only 5 minutes way from Bennington Carriages) visit www.stauntonarms.co.uk
Christine, Douglas & Joey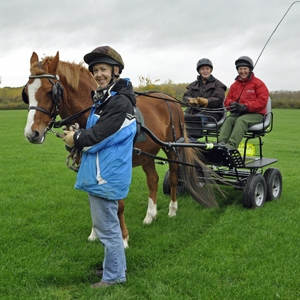 "Very Inspirational"
Very inspirational, realized there is a lot to learn. A sensational pony to drive, thank you Pat & Sue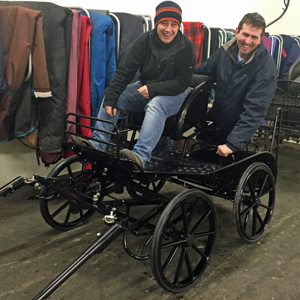 "Very welcoming and supportive to me as a newcomer" - Emma
Thanks to some Carriage Driving vouchers, a very generous Christmas gift from my sister Louise, in the Summer of 2015 I tried Carriage Driving for the very first time and was instantly hooked. Working locally with Chris Ainscough and his Team at Thompson House Equestrian Centre I was soon competing in novice events with Chris's veteran competition pony Gwen. I enjoyed the focus and discipline of the Precision & Paces and Cones Courses and thrilled at the adrenaline rush of Obstacles. Within 6 months I was ready to take the next step and buy a carriage for our own pony, Storm. I'm a firm believer in buying something once so it had to be right. I spoke with Chris, a career professional competition carriage driver, and there was only one choice - Bennington Carriages. The next day I contacted Sue Mart at "Benningtons" and ordered my very own Bennington Spirit. The Spirit will be great for Indoor Carriage Driving, and has all the competition extras fitted, like lamp brackets and extending axels if we want to progress to Driving Trials. Sue and the Team at Bennington Carriages were really helpful and very welcoming and supportive to me as a newcomer, even liaising with Chris to make sure my carriage would be the right fit for Storm and I. It was great to be sourcing my carriage from Sue at Bennington Carriages, who clearly has an enthusiasm for all aspects of Driving and was focused on specifying the right carriage for us. I have just taken delivery of my new Bennington Spirit and couldn't be happier. Carriage driving has changed my life. I dare anyone to try it and not become hooked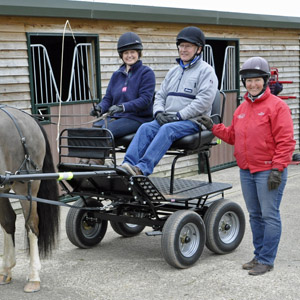 To say that we are delighted with Joey is a complete under statement. We just can't believe how far we have come in such a short period of time. Even down to being able to service our own Fun Bug! Who would of thought that in a few weeks we will be on our first pleasure drive! How exciting is that.
However it is all down to your fantastic support and encouragement. The last couple of days training has been so beneficial in so many ways. Our learning curve feels like we are on a space rocket but it is so much fun. We feel so privileged to have you and Team Bennington to support us on our adventure! Christine & Douglas April 2016
'I had a thoroughly enjoyable time' - Anne McDonald
'This is my second " Try Driving Day" and each time it has got better. I have had a thoroughly enjoyable time. Everyone is very friendly and one is able to learn new things in a non-threatening environment. I would recommend these days to beginners and experienced drivers alike' Anne McDondald
'I really really enjoyed it'! - Suzanne Blagg
Just wanted to say once again thank you very much for my driving lesson yesterday. I really really enjoyed it! Louise was very good a very patient with my muddled hands! The pony was absolutely wonderful and I've never gone so fast in a carriage before so it really was fun. Also, Amanda's book is absolutely wonderful. It talks absolute sense and is nice and clear and such a breath of fresh air. I am half way through already! Many thanks once again, Suzanne Blagg June 2011
PS I have to admit that I turn into a pony mad teenager when at Bennington and am quite in awe of all the beautiful carriages so please excuse me for being a bit too excited and sorry for keeping you in the shop so long.
'Totally inspired' - Jan & Hannah Mcllvennie
Hello Sue, Just a quick note to thank you once again for the amazing time Hannah and I spent with you and Dylan last Saturday.We both enjoyed it so much and are totally inspired to get on and drive our pony, who we are sure will have a great time! Thank you also for recommending the Reindeer pub, we had a lovely lunch there. The people were really welcoming and friendly. Best wishes, Jan & Hannah Mcllvennie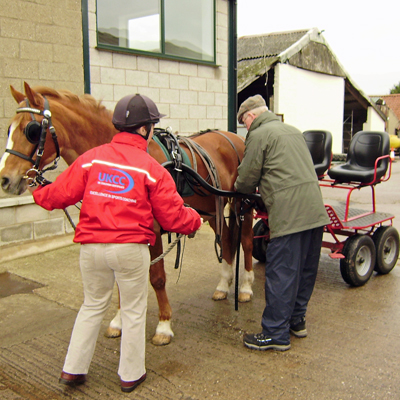 'A fantastic Birthday present' - Bev Sutton
Thankyou so much for your time this morning. My father thoroughly enjoyed himself and is already talking about having another go next year. We were both very impressed with the centre and particularly by your teaching skills, care and attention. I don't think dad has ever enjoyed a birthday present as much as this one! That cup of tea was especially welcoming!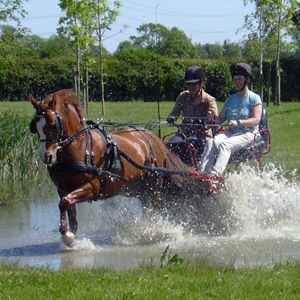 1st Lesson - Sue Markin
Hi Sue, Just a quick e-mail to thank you for a really enjoyable afternoon, I loved every minute of it, and will definitely be back for more.