Bennington Super Star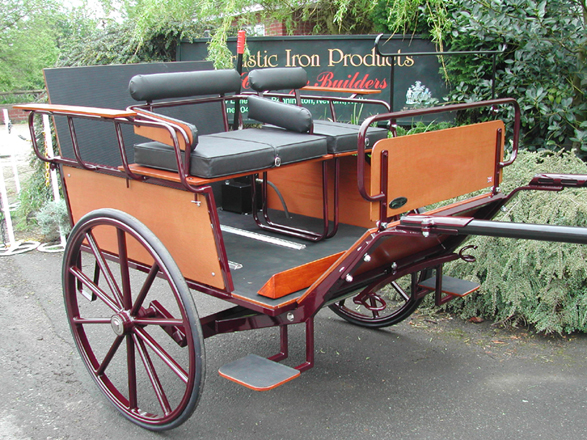 Bennington Super Star
Designed and built purely for wheelchair / semi ambulant drivers. The Super Star incorporates Bennington's unique hydraulic system to enable easy wheelchair access to the carriage.
Use
For wheel chair and semi ambulant drivers
Pleasure driving

Key Features
Soft ride suspension
Pneumatic tyres for a soft ride and use on a sand arena
Hydraulic lift system for ease of loading the wheel chair driver
Option of single and double seats to cater for a combination of drivers
Adjustable balance
Ramps
The main feature of the carriage. The body is hydraulically lowered and raised to form part of the ramp, the back door forming the other half. This means no weight is transferred onto the shafts during loading and unloading. The back door can be removed for a third person to stand.
Shafts
Fully adjustable sprung aluminium shafts which can be easily adjusted for length, width and height. Covered in a heavy duty black plastic material for ease of cleaning. Brass tug stops and side breeching dees..
Wheels
Option of aluminium wheels fitted with pneumatic tyres or aluminium wheels fitted with solid rubber tyres, running on taper roller bearings and oil seals.
Track Width - 138cms
Finish
Powder coated for a quality and durable finish in a wide range of colours.
Suspension
Independent suspension unit for a comfortable ride on all terrains.
Seat
A single seat is fitted, complete with a cushion for the Able Bodied whip. Black vinyl upholstery. Steel tube whip holder included.
Swingle Tree
Fitted with either curly hooks or loops.
Prices
Prices below exclude V.A.T @ 20%. A V.A.T exemption form will require completion. Price excludes delivery. Delivery price available on request.

The above information/specification may be altered at any time without prior notice.
| Size Range | Wheel type | Wheel dia. | Springs | Loading system | Price Ex. Vat |
| --- | --- | --- | --- | --- | --- |
| 13.2 -14.2hh / 137- 147cms | Aluminium with pneumatic tyres | 27"/ 69 cms | Independent suspension unit | Hydraulic | £6,825.00 |
| 13.2 - 14.2hh / 137 - 147cms | Aluminium fitted with solid tyres | 33"/ 84 cms | Independent suspension unit | Hydraulic | £6,395.00 |