Bennington Challenger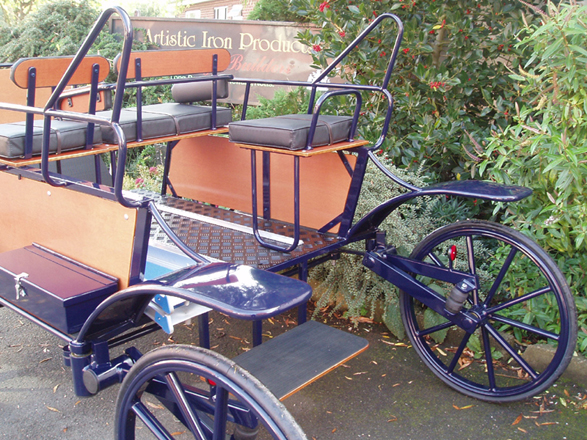 Bennington Challenger
The Bennington Challenger is the perfect single four wheel carriage designed and built purely for a wheel chair and semi ambulant driver.
Use
For wheel chair and semi ambulant drivers
Pleasure driving

Key Features
Rear wheel steering, enabling the driver and passenger to sit behind the horse all the times whist driving
A foot operated brake is incoroporated in the system to prevent the vehicle moving whilst loading and unloading the wheel chair driver
Telescopic ramps for easy access for the wheel chair driver
Option of single and double seats to cater for a combination of drivers
No balancing required

Ramps
Two stage aluminium telescopic ramps manufactured by Unwin Ltd are incorporated for ease of loading the wheel chair driver. When not in use store neatly on the carriage.
Shafts
Aluminium shafts are fixed for ease of putting too and are detachable for ease of transporting. Covered in a heavy duty black plastic material for ease of cleaning. Brass tug stops and side breeching dees.
Wheels
Aluminium wheels fitted with solid rubber tyres, running on taper roller bearings and oil seals. Brass hub caps fitted as standard.
Track Width - 138cms
Finish
Powder coated for a quality and durable finish in a wide range of colours.
Brakes
Rear disc brakes
Suspension
Front parabolic semi elliptic springs for a comfortable ride on all terrains.
Seat
Two detachable single seats are incorporated for the semi ambulant and Able Bodied driver. Flat cushions are fitted covered in black vinyl fabric.Steel tube whip holder included.
Swingle Tree
Fitted with either curly hooks or loops.
Prices
Prices below exclude V.A.T @ 20%. A V.A.T exemption form will require completion. Price excludes delivery. Delivery price available on request.The above information/specification may be altered at any time without prior notice.
| Size Range | Wheel type | Wheel dia. | Springs | Loading system | Price Ex. Vat |
| --- | --- | --- | --- | --- | --- |
| 13 - 13.2hh/ 132 - 137 cms | Aluminium fitted with solid rubber tyres | 25"/64cms | Front parabolic semi elliptic springs | 2 stage aluminium ramps | £9,755.00 |
| 14 - 14.2 hh/ 142 - 147 cms | Aluminium fitted with solid rubber tyres | 28"/71cms | Front parabolic semi elliptic springs | 2 stage aluminium ramps | £9,895.00 |
| 15 - 15.2 hh/ 152 - 157 cms | Aluminium fitted with solid rubber tyres | 33"/84cms | Front parabolic semi elliptic springs | 2 stage aluminium ramps | £9,995.00 |