The Company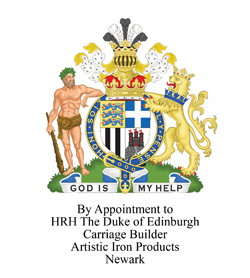 Since Michael Mart founded Bennington Carriages over 50 years ago, many things have changed. Today's designs, manufacturing processes and materials are very different from when we built our first horse drawn carriage in 1962. However, the essence of Bennington Carriages remains unchanged – namely to hand build the very finest bespoke carriages in our Nottinghamshire workshops and to provide exceptional levels of service to our discerning customers.
As a family of carriage drivers ourselves, we are passionate about our products and are continually striving to innovate and enhance the Bennington Carriage experience. Many features found on our carriages today – for example our renowned aluminium wheels and delayed steering - are due to our considerable and ongoing involvement with the sport. Our Royal Warrant, awarded in 1979, is further testament to our commitment to excellence. A few photographs of HRH The Duke of Edinburgh and the carriages made for him can be found here
Whether driving for pleasure or competition, each Bennington Carriage is manufactured in-house to our exacting standards that will ensure a lifetime of pleasure from your investment. Each carriage represents the output of our team of dedicated, highly skilled craftspeople and the effort required to transform raw materials into a carriage that will exceed your expectations.