Our History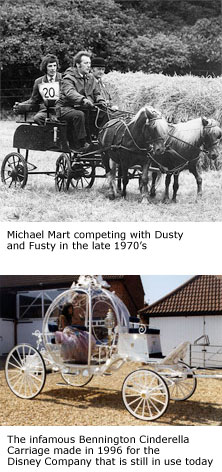 Bennington Carriages is an established family owned business that has been operating from picturesque Long Bennington for over 50 years. Founded by Michael Mart in 1962, Bennington originally specialised in the production of horseboxes and trailers.
The arrival of two Shetland ponies, Dusty and Fusty, marked the starting point for "today's" Bennington Carriages. Dusty & Fusty (right), bought for Michael's children, showed little interest in being ridden and so using his engineering expertise, Michael developed a carriage that would allow the ponies to be safely driven. Entry into the new competitive sport of Driving Trials soon followed.
During these competitions, Michael observed that the traditional carriages being used were highly unstable and unsuitable for competitive driving. With this in mind, Michael started designing the Bennington range of carriages. During the 1970's, the Bennington Carriage soon became synonymous with innovative design, exceptional quality and outstanding customer service. The patron of the sport HRH The Duke of Edinburgh acknowledged this excellence and in 1979 awarded the Royal Warrant that Bennington proudly retains today.
Underpinning the excellence of the Bennington carriage is the continued focus on innovation. Many "normal" features on today's carriages are the result of Bennington's ongoing commitment to pioneering design. Examples include the "back step" that allows the groom to stand behind the driver to aid stability, the aluminum wheel that is lighter and stronger than wood and Bennington's renowned delayed steering. Furthermore, Bennington pioneered carriage powder coating - delivering significant improvements in paint finish and durability.
During the last 46 years, Bennington is proud to have manufactured carriages for the British Monarchy, The Sultan of Brunei, The Disney Corporation as well as exporting carriages worldwide. Today, under the watchful eye of Sue Mart, Bennington remains true to its roots, remaining family owned and employing 12 highly skilled local craftspeople who design, manufacture and support the very finest carriages available.