Featured Driver
We are delighted to be featuring Bennington owners.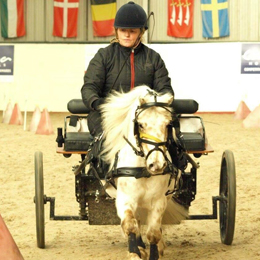 Featured Driver - Naidene Byrne
Groom- Chris Ainscough
How did you get involved with carriage driving?
My horse is Tiptoe Hurricane( Bubbles), he is a 35:5" miniature stallion, British Bred Spotted. He is fourteen years old and I have owned him for ten years now. We train with Chris Ainscough and are stabled at Thompson House Equestrian Centre. I bought Bubbles as a project to sell on but as he started to blossom it became evident he was something more special. He has been a very successful show pony and in 2010 I decided to retire him as a prolific winner on the circuit. He was far too good to become a pet/ companion so I decided to make him into a carriage driving pony. I did lots of groundwork then introduced him to Chris who broke him with his fiancé Caz and from that day, we have developed a fantastic driving partnership and both of us have a very happy relationship.
How did you get involved with carriage driving?
I have had horses all my life and have had the opportunity to drive and groom for ponies in the past but I only got really involved over the last eight years.
What was the name of your first driving horse?
My first driving pony was a grey section A Charlie who gave me lots of confidence to learn and develop the taste of carriage driving.
Who has been your inspiration?
Chris Ainscough is a massive inspiration to myself when it comes to horses. He never judges anyone/ horse/ turnout, shows great dedication and never gets stressed or angry with his horses. He has taught me loads. I once drove one of Chris's horses blindfolded through a course of cones to raise money for Sports Driving Unlimited, this took great trust to complete this task but I felt really safe. My husband is also my inspiration as he supports me, encourages me to do well at work and with Bubbles, he supports my emotions and is always there for me when I feel deflated.
What is the one driving item you couldn't live without?
The one driving item I never go without is my high viz reflective gear, the weather is so changeable in the UK , we must live amongst each other on the roads and safely is paramount to all users.
What is the best piece of advice you have been given by a fellow driver?
The best advice given to me was by the late Amanda Saville " stop being so hard on yourself and enjoy your driving , this pony drives with his heart for you and wants to please you, back off him and enjoy his company as he just wants to be with you!" This made me realise , actually does it matter if I win? Stop putting pressure on myself and enjoy my hobby.
If you could drive at any venue in the world, where would it be?
I'd love to drive through Chatsworth House
What do you do to relax away from carriage driving?
To relax away from ponies I like to spend time with my dogs and husband. A good four hour walk on the moors followed by a nice gin in a country pub with the dogs is just time out for me.
Can you tell us ablout your day job?
My day job is very stressful as I am a senior Operating Department Practitioner based in Anaesthetics and Recovery with the theatre department of my local hospital. The patients love to hear about my carriage driving and all my work colleagues think it's great. They will swap off duty to cover shows / training for me to ensure I can continue to drive. I also get time off to support Sports Driving Unlimited as I usually have something crazy planned.