Business Of The Year Award
Business Of The Year Award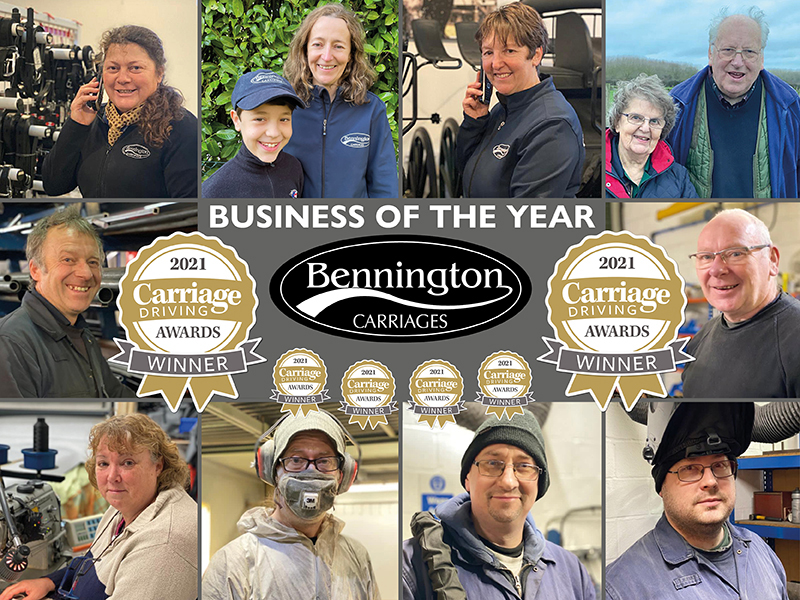 Carriage Driving - Business of the Year
For the second year running we're absolutely thrilled to win the "Business of the Year" category at the 2021 Virtual Carriage Driving Awards. It's a fantastic recognition of the commitment, focus and dedication of our incredibly skilled team who are the backbone here at Bennington Carriages, which has been making carriages for well over 50 years.
Our team's commitment to developing and growing our wonderful sport remains absolute – from designing, manufacturing and supporting our world-famous Bennington Carriages to our worldwide customer base, providing accredited training at our wonderful facility and retailing a huge range of the very finest accessories from our showroom or via our online shop. Our exceptional customer service and advice is recognised the world over and is a clear demonstration of the quality and service that our customers expect. Whilst the last year was a difficult year for us all, it has made us even more focused on doing the things that Bennington is renowned for and we are looking forward to hosting our popular open days and training days here at Bennington this year. From feedback, we know that our loyal and supportive customers appreciate our focus on making the Bennington community one that is inclusive, supportive and most importantly, fun.
We'd like to extend our thanks to all of those who helped organise and deliver this wonderful event and our congratulations to all the winners of these awards that celebrate the very best of carriage driving. We look forward to seeing you at Bennington very soon or at the wonderful driving events throughout the year.