Bennington Ambassadors
We are delighted to have Bennington Ambassadors all over the world.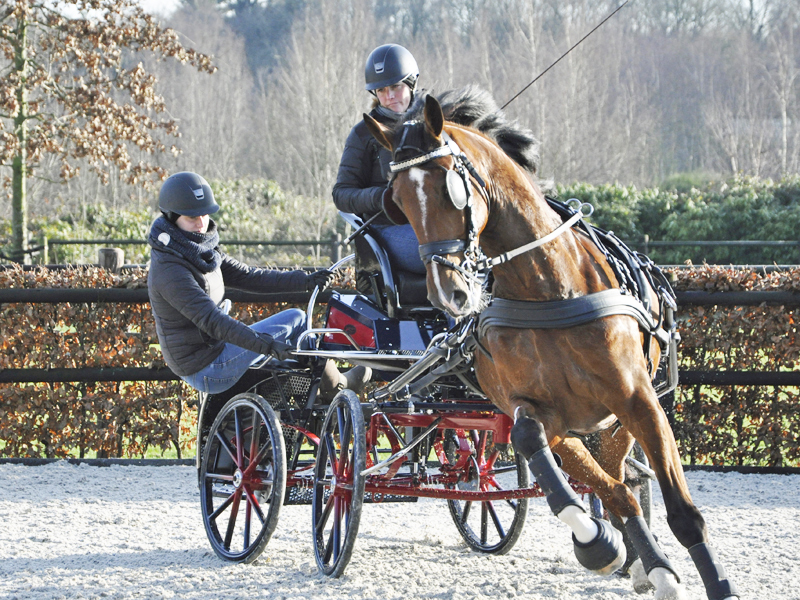 Kelly Houtappels-Bruder is a Canadian born driver who currently resides with her husband Frank and son Arthur in Steensel, the Netherlands. Kelly runs a small private training stable there where she brings along young prospects as well as competes in combined driving and under saddle dressage competitions at the national and international levels. As a young girl Kelly was an active member of pony club and competed extensively in dressage competitions up to small tour level. When she grew out of her first pony, he was put in the carriage and thus began her driving career; initially at pleasure driving competitions and later in combined driving as well. Upon graduating University with a degree in Agriculture Kelly began to further her equestrian education functioning as Stable Manager at Tralee stables, a competitive driving and coaching stable. During this time Kelly also functioned as a journeyman groom, travelling across North America to various competitions and gaining valuable experience along the way.

In 2008 Kelly was invited to travel to Belgium to be a working student with Gerard Leijten at his Blakheide Stables. With the intention of only going for a few months, she set out on her European adventure, and twelve years later is still there. Over the last twelve years Kelly has been a regular face on the international driving circuit and has most notably garnered success competing with her single horse Flip. Flip, a twelve-year-old Oldenburg gelding by Fidertanz came to Kelly by chance five years ago, but the click they had together was immediate, and as a result they crowned the end of their first season together with a seventh place finish at the 2016 World Championships in Piber, Austria. Since then they have maintained a top ten place on the FEI top driver rankings and have won a number of CAI 3* competitions including Saumur FR, Keispelt LUX, and Pisicné CZ. In addition to Flip, coming up the ranks is a 7-year-old KWPN gelding Iggy, who has been competing in the FEI young horse classes and will be making the step up to 2* competitions in the coming year or two. Two dressage horses round out the string at home which include Hanno, an 8-year-old KWPN gelding and Blondie a 19-year-old Danish warmblood mare, who is still going strong and keeping everyone around her sharp.

In addition to her busy competition schedule, Kelly has a couple of keen students in the Netherlands and travels regularly to Canada to give clinics there. In 2019 Kelly stepped into a sponsorship agreement with Bennington carriages, and couldn't be happier with the superior craftsmanship and performance of both her dressage and marathon vehicles. Working with Sue Mart is an absolute pleasure and we couldn't be more excited to tackle the season ahead together!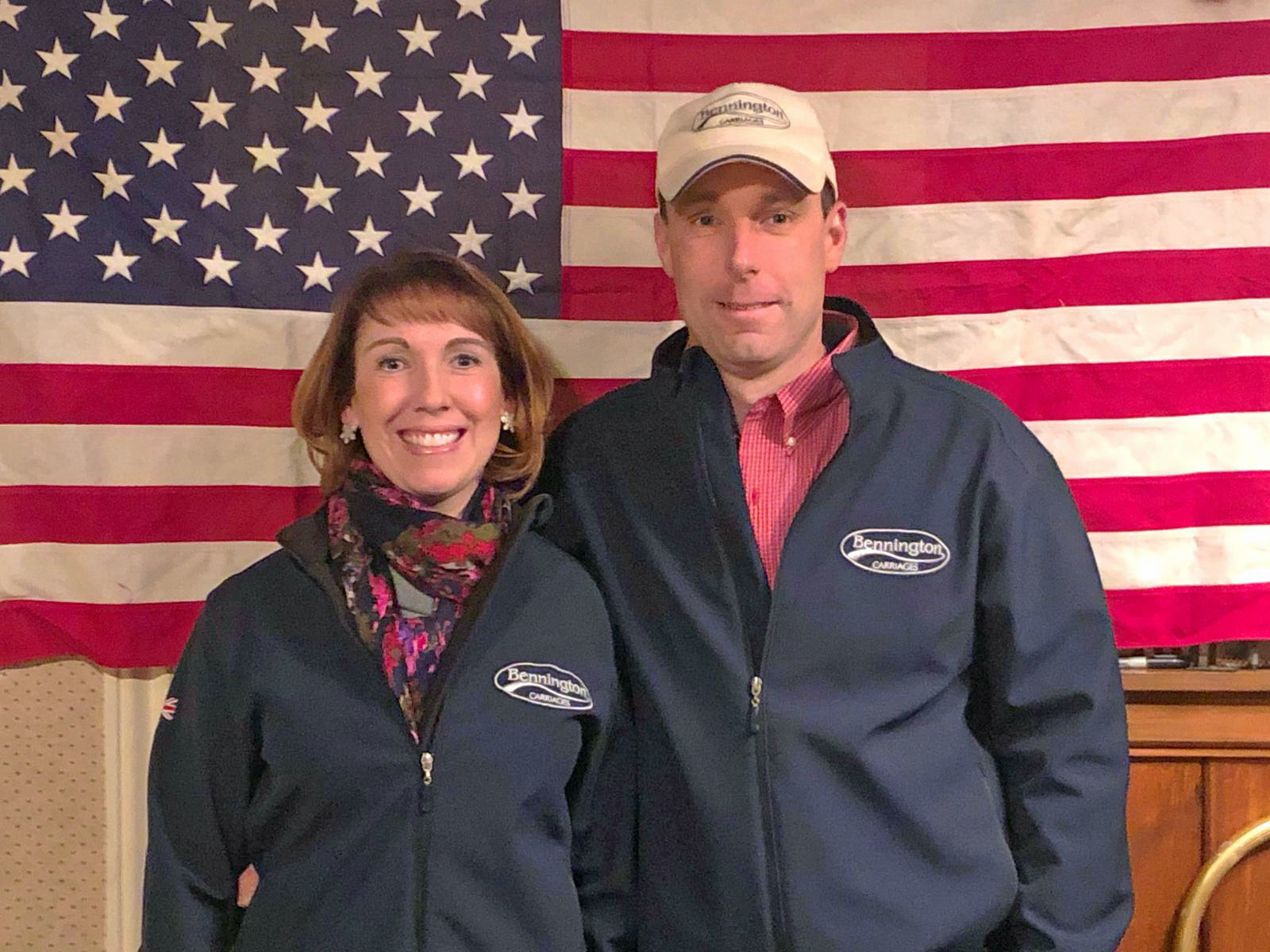 Aaron and Kelly Soldavin - USA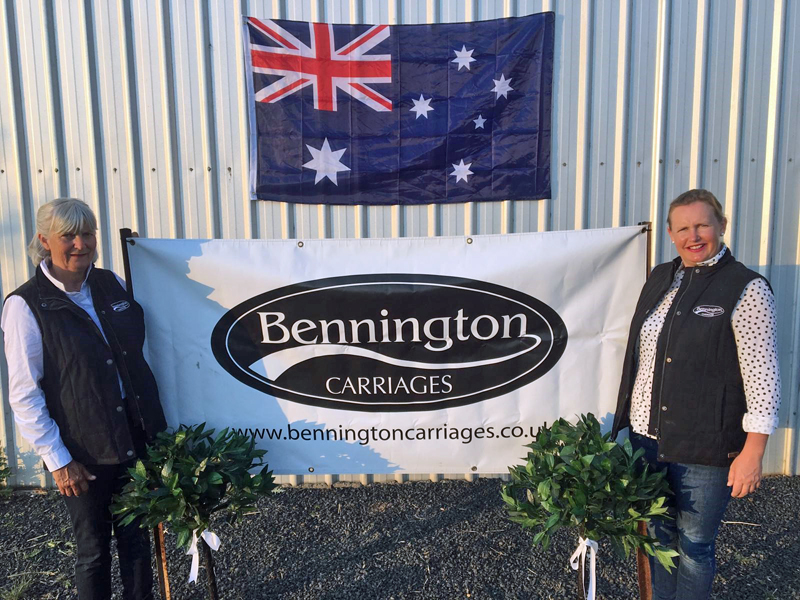 Judy and Jessica Meredith - Australia
Jessica Meredith has been involved in Carriage Driving for over 25 years. Commencing her driving career in Australia at the age of 9 and competing to the highest level successfully in singles, pairs and teams. In 2005 Jessica moved to the UK to continue her driving career alongside Phillipa Gammell (SCO) and then branching out on her own in 2008 in Oxford (UK).
Jessica competed once again to the highest level in both the UK and Europe including 2 Pony Pairs World Championships, while also being selected to coach the Australian Singles team at the World Singles Championships in Italy in 2010.
Jessica relocated back to Australia in 2016 and has continued to be an advocate for the sport of driving taking up the position of National Chair for Driving Australia while also gaining her accreditation as an Equestrian Australia Driving Coach. Jessica also reinvigorated the grassroots of driving, with the creation of specialised Junior Driving Clinics and Development Clinics to grow the sport and safety of driving in Australia.
Jessica has a rich history with Bennington Carriages both in the UK and Australia. She also understands the needs of the Australian and NZ driving market whether it be for pleasure or competition. Jessica currently lives in Northern NSW (AUS) with her son and would be happy to assist with any of your queries relating to Bennington Carriages, harness and equipment.